TruAddress™ AI-Powered Routing Optimization
Listening to the field to help businesses rapidly deliver parcels and goods to the right place, the first time, every time.
Shipping address ≠ drop-off location
The Achilles heel of delivery logistics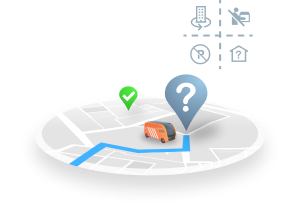 With all of the advances in delivery logistics, businesses and couriers continue to struggle with the industry's most fundamental problem – the methods for determining the best delivery route, a.k.a routing optimization, are out-of-sync with the lay of the land.

Drop-off and pickup locations that differ from shipping addresses, wrong or invalid addresses, and non-standard delivery locations, are just a few of the factors that turn planned shortest routes into nightmares. These impractical routes end up being chaotic, inefficient, and much longer than originally planned, leading to customer attrition and losses.
Field Experience + AI = Delivery Brilliance
TruAddress™ - The heart of your delivery operations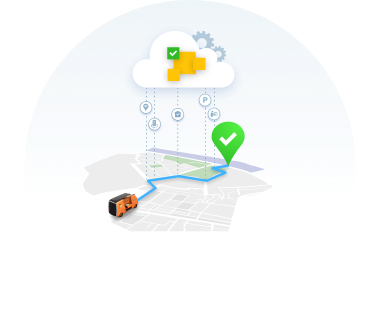 Combining machine learning, AI, and field intelligence, TruAddress™ begins by capturing and retaining one of your most valuable assets, your drivers' cumulative experience and geo-locational knowledge of your customers' verified access points and drop-off locations. It then proceeds to generate the shortest FEASIBLE delivery routes comprised of the ACTUAL locations drivers require to best complete their daily delivery missions, faster than ever and with near perfect first attempt delivery rates. These truly shortest routes quickly become ingrained, forming the backbone of your delivery operations.
Where AI meets the real-world
Our technology goes beyond the purely mathematical shortest routes, proactively collecting data from your drivers and couriers, automatically learning and mapping the actual world, and proposing the shortest practical reality-based routes that avoid incorrect, inaccessible, or nonexistent addresses.

For the first time, last mile delivery operators can aggregate and leverage data unique to their operational DNA to fulfill each delivery mission the first time, with the utmost accuracy, speed, and efficiency.
What most operators do…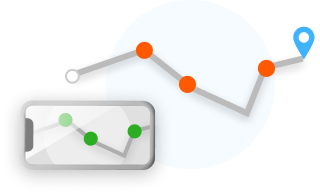 Planned shortest route
Applies shortest path algorithms to pure geographic data, yielding a delivery route that does not account for real-world factors.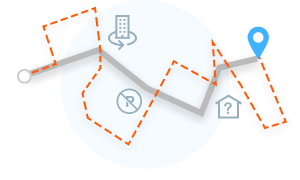 The actually executed route
Drivers' executing the planned route encounter pitfall after pitfall, such that their actual route takes longer, causes aggravation, and generates redundant costs.
What we do.
TruAddress real-world routing
Provided with a practical route that accounts for actual addresses and operational parameters, drivers deliver on the first attempt, deliver more, and provide unmatched service experiences.
Now is the best time
for Right-First-Time delivery
Integrated into our best-of-breed mobile app and throughout the Applicat platform, TruAddress and Right-First-Time technology let you hit the ground running without ever having to look back. They let you deliver with unbeatable doorstep accuracy on the first attempt, keeping your delivery team and your customers 100% satisfied, 100% of the time.
The True Value of TruAddress
By giving you the means to retain and harness your customers' real geo-locations and operational data, TruAddress will forever change the way you deliver goods and parcels, streamlining your operations and reducing costs.

Short, Practical Routes
Your drivers will ALWAYS follow the most practical, real shortest routes, delivering with pinpoint doorstep accuracy.

Fast and Accurate
Quicker delivery speeds, locational accuracy, and improved first-time delivery rates, increase capacity and reduce hub-returns.

Operations Upgrade
The overall effect of TruAddress is increased operational efficiency, effective drivers, well-informed logistics managers and happy customers.
TruAddress - Delivering the Numbers
90%
greater delivery
address accuracy
45%
increase in successful
first-time delivery attempts
35%
faster
delivery speed
20%
growth in
delivery capacity
Learn more about the Applicat edge